Campus Party 2016 – Feel the Future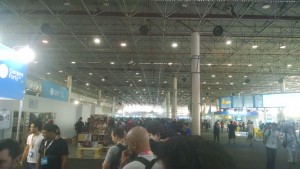 De 26 a 30 de janeiro está acontecendo a 9ª edição da Campus Party Brasil no Pavilhão de exposições do Anhembi.
As entradas já estão esgotadas e há conteúdo tanto para os pagantes (Campuseiros) como para os visitantes.
Os visitantes poderão encontrar os standes de diversos patrocinadores como Submarino, Editora Abril, Wizard, Rede Globo dentre outros.
Para os Campuseiros há palestras previstas durante todo o período das mais diversas áreas sempre mantendo o foco no tema deste ano "Feel the Future".
Como chegar
A organização está disponibilizando transporte fretado (ônibus com ar-condicionado) para o local do evento na Rua Marechal Odylio Denys esquina com a Rua Voluntários da Pátria.
Os ônibus sairão diariamente das 08:00 às 22:00 horas, com exceção ao dia 31/01 onde encerrarão às 1800 horas. Maiores informações sobre como chegar lá, visite o blog do evento em: http://blog.campus-party.com.br/post/136817040011/mais-uma-boa-not%C3%ADcia-para-essa-edi%C3%A7%C3%A3o-da-campus .
Tags: anhembi, campus party, cpbr9